Crab cakes are always clad on the fancy restaurant's appetizer menu. But how about making them from home? And adding some health to it? We think yes! Read on for our take on crab cakes that you and your tastebuds won't want to miss.
These tasty king crab cakes combine fresh crab meat with eggs, herbs, panko breadcrumbs and hemp hearts – for a delicious yet healthy take on a seafood favorite. Perfectly pan-fried to perfection, this is one crab cake recipe that won't crush your calorie count or spike your cholesterol. Hemp hearts are known for their rich amino acid content, providing essential minerals and vitamins that aid in both heart-health and protein consumption. Hemp hearts also add a beautiful subtle nutty flavor to this recipe while upping the crisp factor of these cakes when fried. Now, let's get to cooking! Hello new favorite crab cakes, Red Lobster has nothing on you.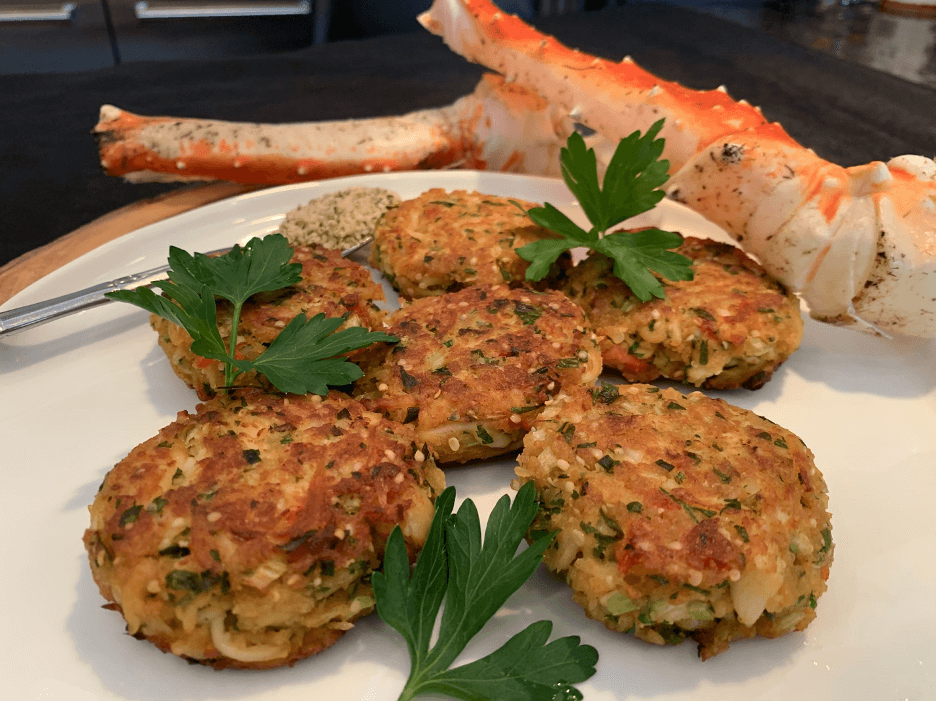 Ready in 20 minutes
Makes 10 cakes
Ingredients
1 lb. king crab leg meat, flaked
2 large organic pasture raised eggs, beaten
3 tablespoons mayonnaise
2 teaspoons Dijon mustard
1 teaspoon Worcestershire sauce
1 rib of celery, diced small
1 scallion, minced
1 tablespoon fresh parsley, chopped
2 tablespoons hemp heart
½ cup of panko breadcrumbs
¼ teaspoon each of salt, white pepper, paprika, onion powder and garlic powder
Oil for frying (grape seed, canola or olive)
Preparation
In a large bowl, mix together all the ingredients until everything is evenly combined.
With gloved hands, form up to 10 crab cake patties, about 1-½ inches in diameter and place them on a tray lined with parchment paper.
Working in batches to not overcrowd the pan and ensure even cooking, heat a non-stick pan with about ¼ inch of oil and fry the cakes for about 1-½ minutes on each side or until they're golden brown and crispy. Replace the parchment paper on the tray with some paper towel to drain the crab-cakes of the excess frying oil.
Enjoy while hot and freshly fried!