Comfort food – but make it vegan! There is something to be said about a delicious bit of cornbread accompanying a bowl of chili or soup. As the cooler months quickly approach, this vegan cornbread recipe will be your go-to addition for comfort food nights from the crockpot.
Our tasty take on cornbread comes with a side of health. Made completely animal product free, with hemp hearts, flax seeds, oat milk and agave syrup, this cornbread carries the right amount of savory and sweet. We crafted our own "buttermilk" to add to the mix, giving an extra tip of the hat to the southern comfort food favorite. Hemp hearts and flax seeds provide a high amount of plant-based protein while awarding their heart-healthy amino acids and vitamins to the batter. Cooked in a skillet pan, this cornbread has a beautiful golden color to match the flavor within.
If you are looking for the perfect vegan cornbread recipe to serve up with that pot of chili on the stove, you have found your match! Read on for our simple yet delicious vegan hemp cornbread.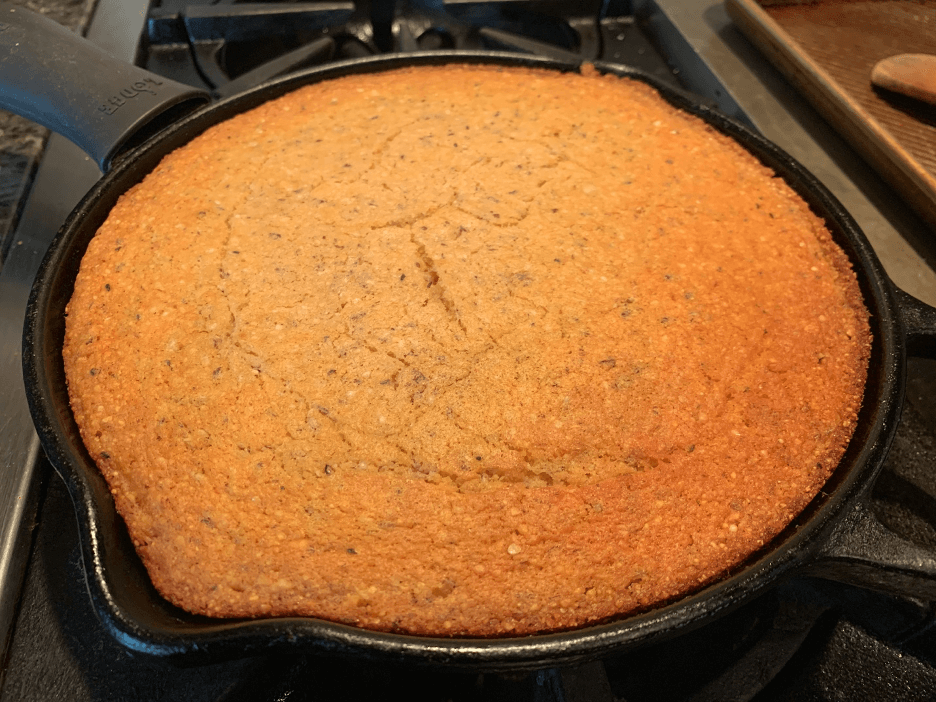 Vegan Hemp Cornbread
Ready in 30 minutes
Makes 16 slices
Ingredients
2 tablespoons ground flax seed + 4 tablespoons water (flax egg)
1-½ cups of unsweetened plain oat milk OR unsweetened plain almond milk
1 tablespoon apple cider vinegar
1 cup of all-purpose flour
1 cup cornmeal OR fine ground grits
1 teaspoon of cornstarch
3 tablespoons hemp hearts
½ a teaspoon of salt
½ teaspoon of baking soda
2 teaspoons of baking powder
3 tablespoons of brown sugar or agave syrup
½ cup of vegan butter, melted + 1 tablespoon for greasing the skillet or pan
Preparation
Preheat the oven to 400F
In a small bowl, mix together the flax seeds and water and let it rest for about 5 minutes or until it's thickened.
"Buttermilk": In another small bowl, mix together oat / almond milk with the apple cider vinegar and let it stand for 5 minutes.
In a big mixing bowl, whisk together all the dry ingredients (flour, cornmeal, cornstarch, hemp hearts, salt, baking powder and baking soda), fold in the melted butter and honey. Whisk in the flax egg as well as the "buttermilk".
Grease a 10 inch skillet pan, add in the batter, and bake for 20-23 minutes or when a skewer is inserted and it comes out clean. Let the cornbread rest on the countertop for 15 minutes before serving so it can set. Enjoy!
Tips
Serve this cornbread with some extra vegan butter and a drizzle of agave syrup, alongside your favorite bean chili recipe!
Alternatively, you can use a regular disposable aluminum foil or a silicone mold loaf pan instead of a skillet. Make sure though to butter the inside