Segmented Roasted Butternut Squash glazed with Maple Syrup and topped with Super Seed Egyptian Dukkah
DAIRY-FREE/PALEO/PLANT-BASED/SOY-FREE/VEGAN/VEGETARIAN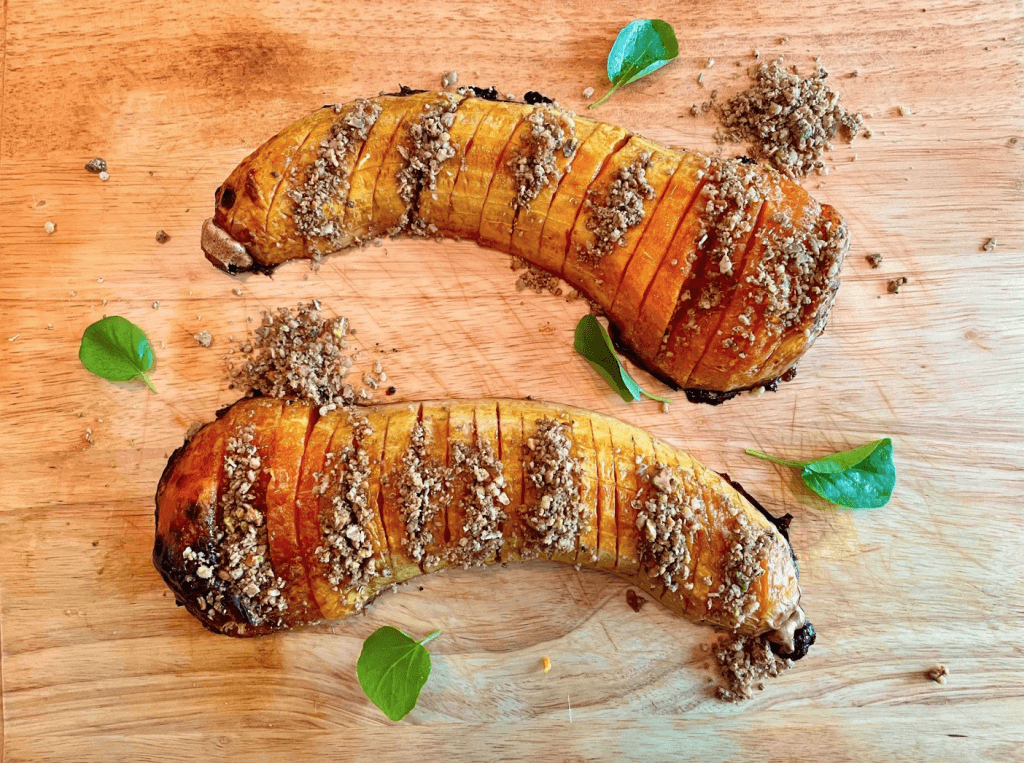 Total Time: 55 minutes
Prep Time: 10 minutes
Cook Time: 45 minutes
Makes: 8 servings
Allergens: seeds, tree nuts
Dukkah is an Egyptian or Middle Eastern condiment that consists of a blend of spices, herbs, nuts and seeds that is usually served on top of a dip eaten with bread, but in this case, I use it as the crunch factor sprinkled on top of my roasted and caramelized hasselback butternut squash recipe.
This humble vegetable gets a new look by getting slices from end to end, with maple syrup brushed into every section that creates an even caramelization! Cumin, coriander and fennel spice things up and super seeds like walnuts, hemp and pistachios add a nutty crunch to perfectly balance this Middle Eastern inspired dish.
Serve this dish alongside roasted lamb or chicken, or simply make it the main attraction for your next meatless meal!
Related: Are you looking for an easy way to make this recipe even better? Consider adding a dropper-full of CBD oil to the final step. Cooking with CBD oil can be easy and fun, a simple way to up the therapeutic aspect of any meal. Click here to learn more about CBD's benefits for digestion.
Ingredients
SQUASH
1.5-2 lb butternut squash, peeled and deseeded
1 tablespoon hemp oil
¼ teaspoon of pink himalayan salt
2 tablespoons of maple syrup, for brushing
DUKKAH
¼ cup of walnuts
¼ cup of pistachios
¼ cup of sprouted sunflower seeds
¼ cup of sprouted pumpkin seeds
2 tablespoons of hemp hearts
1 tablespoon of flax seeds
1 tablespoon of fennel seeds
1 tablespoon of coriander seeds
1 tablespoon of cumin seeds
⅛ teaspoon of cracked black peppercorn
½ teaspoon of pink himalayan salt
Steps
1.) Preheat the oven to 425°F. Start by peeling the butternut squash with a vegetable peeler and remove the seeds using a spoon. Place the squash on a parchment paper lined baking tray, rub it with hemp oil and season with salt. Roast for 20 minutes.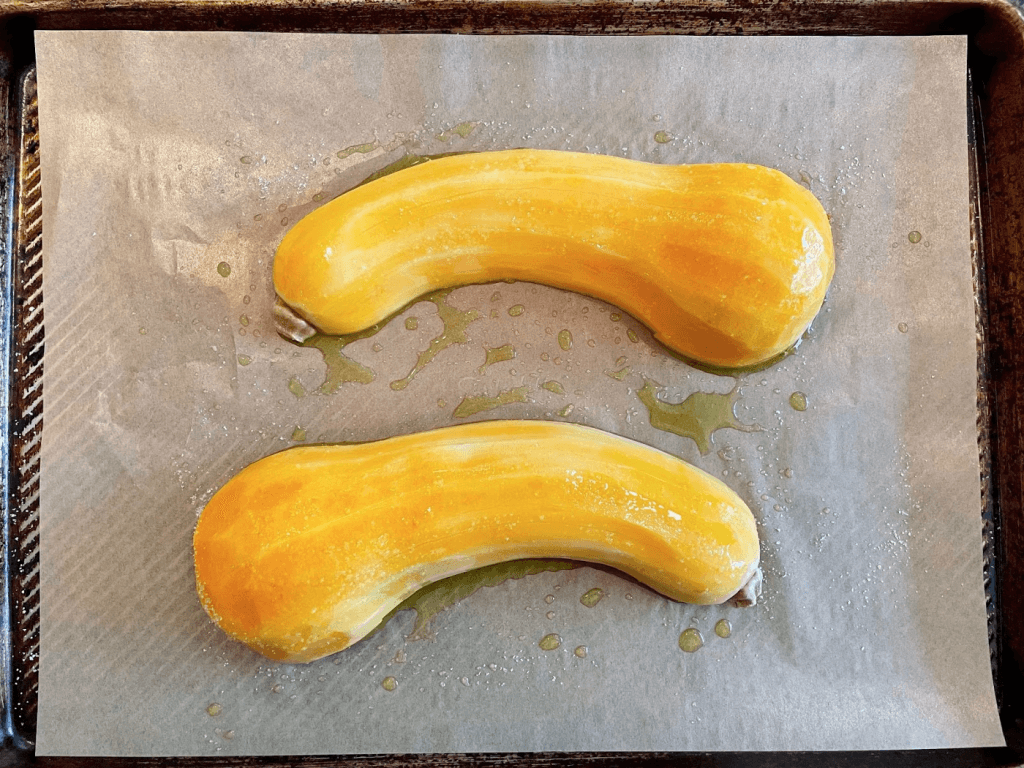 2.) Place the hemp hearts, walnuts, pistachios, sunflower seeds and pumpkin seeds into a pan and toast them on medium low heat for 3 minutes.
3.) Place the cumin, coriander, flax, fennel, pepper and salt inside a spice grinder and pulse until fine. Add the spice mixture into the pan of nuts, turn the heat down to the lowest setting and toast for another 2 minutes. Be careful, nuts and spices can burn very easily, you just want to lightly toast them to release all the flavorful oils locked inside. Transfer the dukkah into a mini food processor and pulse the nuts until it forms a coarse texture, set aside for later.
4.) After roasting for 20 minutes in the oven, the butternut squash should be easier to cut into. Use two chopsticks placed above and below to form a guideline so that you don't cut slits right through the squash. Slice the squash from one end to the other, brush with maple syrup, and return it into the oven for another 10 minutes. Brush the squash with maple syrup every 10 minutes until it is cooked. I had a 1.75 lb squash and it took 50 minutes, so I brushed it 3 times.
5.) Top the hasselback butternut squash with half of the dukkah. Save the other half or serve it on the side. Enjoy!
Tips
Storing and shelf life: The hasselback squash will keep in the fridge in an airtight container for up to 4 days. The dukkah alone (once it's cooled) can be stored in an airtight container, Ziploc bag or mason jar, at room temperature for up to 2 weeks.
If you do not have a spice grinder, a coffee grinder or a mortar and pestle will work as well.
If you do not have a food processor to crush the nuts, you can place them in a heavy-duty Ziploc bag and smash away with a hammer or meat tenderizer.
Q&A
Can I use a different type of nut instead of walnuts and pistachios? Any nut can work in this versatile recipe. Peanuts, macadamia nuts, cashews, pecans and hazelnuts work in place of the other nuts and seeds.