Protein bars are in abundance just about everywhere these days. You don't have to shop at a health store to find a tasty protein bar, but the sugar problem often persists with any store-bought bar. Imagine making your own tasty AND healthy all-natural protein bars right in the comfort of you own kitchen – read on for our easy hemp fig protein bars.
These delicious bars are packed with super-healthy ingredients from chia seeds to hemp hearts. Easily combined and roughly chopped in a food processor, this recipe is likely easier to follow than you may be thinking. By using dried figs for natural sugar, hemp hearts and chia for super-seed protein and shredded coconut with spices for flavor – these bars not only pack a vital protein punch, but they are also loaded with flavor and texture.
To add a little something extra to your already amazing home-made protein bars, adding a dropped full of CBD to the recipe will up the therapeutic aspect. These is the perfect recipe to practice your CBD chef skills as there is no heat involved and none of the active ingredients have the opportunity to evaporate. Add a dropper full of your favorite CBD oil to the food processor in steps 1 and 2.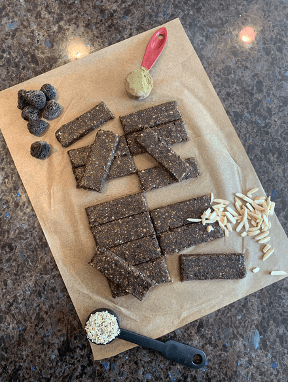 Ready in 15 minutes
Makes 16 bars
Ingredients
1 cup blanched slivered almonds
1 tablespoon each of chia seeds, unsweetened shredded coconut and hemp hearts
2 cups packed, dried figs
1 tablespoon ground cinnamon
½ cup of hemp protein powder
3 tablespoons of blue agave syrup
½ cup of smooth almond butter
4-6 tablespoons of ice cold water
Preparation
In a food processor, add all the ingredients except the cold water and pulse 2 seconds at a time until everything is roughly chopped.
Add the water slowly, one tablespoon at a time until the mixture is well combined and all the nuts and figs are thoroughly chopped.
Remove the mixture from the food processor and onto a big parchment paper (24"x16") on your kitchen countertop, press the mixture from edge to edge forming a rough rectangle. Place another parchment paper on top of the protein bar mixture and with a rolling pin, evenly spread out the rectangle.
Using a pizza cutter, portion out 16 smaller rectangular bars.
Store the bars in an airtight container, with parchment paper in between each layer if stacking, and placed in the fridge. Enjoy!
Tips
Using cold water is important so that the "dough" binds together into a more pliable ball. If you are working in a hotter climate, chill the dough for 10-15 minutes before forming the bars.
These could also be rolled into balls if you decide you like those better!