Starting your day with a hearty yet heathy breakfast can set you up for a whole day of greatness ahead. We've all heard it before, breakfast is the most important meal of the day. With this delicious breakfast hash and scramble, you will have a new favorite meal of the day too. Read on for our heart-healthy take on a sausage and egg breakfast hash.
Packed with flavorful ingredients, sautéed together for a luscious hash that is topped with fluffy buttery eggs. Cauliflower is a great choice to replace starchy potatoes in a typical hash. Add in the beans, mushrooms, peas and hemp hearts – this recipe takes heart-healthy to the next level. Hemp hearts are known to aid in healthy cholesterol levels, lowering blood pressure and providing the body with vital amino-acids and vitamins.
This is another great recipe to add CBD oil to if your heart so desires. CBD works well with recipes that use carrier oils like olive oil and hemp seed oil, easily absorbed in the body to deliver therapeutic properties. Simply add a dropped full to the your hash pan towards the end of cooking and, voila!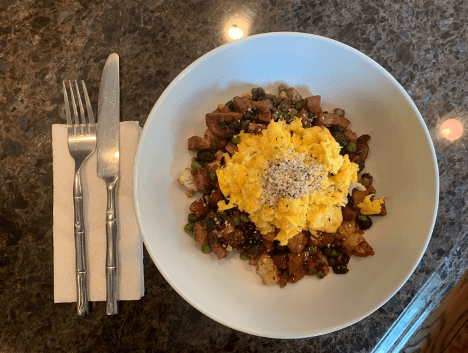 Ready in 25 minutes
Makes 3 servings
Ingredients
3 turkey sausages, sliced
2 tablespoons of olive oil / hemp seed oil
½ head of cauliflower, de-stemmed and cut into 1 inch florets
8 button mushrooms, sliced
1 shallot, peeled, minced
2 cloves of garlic, peeled, minced
¼ cup of canned black beans, drained & rinsed
¼ cup of frozen peas, thawed
1 tablespoon worcestershire sauce
3 tablespoons organic ketchup
3 tablespoons of hemp hearts
1 teaspoon of salt
1 teaspoon of pepper
6 eggs, beaten
2 tablespoons of butter
Preparation
In a large pan with the oil, cook the cauliflower on medium high heat to caramelize it and create flavor. Cook for 2 minutes on each side.
Turn down the stove to medium heat and add the turkey sausage, mushrooms garlic and shallots and saute for another 2 minutes, carefully browning the sausages but not burning them.
In the same pan, add the black beans, peas, worcestershire sauce, ketchup, hemp hearts, salt and pepper, continue cooking everything together for 2-3 minutes or until the cauliflower is cooked and all the ingredients are heated through. Turn off the heat and portion the hash out into 3 bowls.
In a large non-stick egg pan, turn the stove to medium high heat, add the butter and the beaten eggs. Working quickly but carefully, turn the heat down to medium low and swiftly stir the eggs in the pan with a spatula so that the eggs cook evenly and form a fluffy texture.
Top the bowls of hash with the eggs and a sprinkle of hemp hearts and enjoy your breakfast!
Tips
2 tablespoons of butter might seem a lot but they make the best and fluffiest scrambled eggs! For a leaner meal, use 10 egg whites instead of 6 whole eggs, and replace the butter with hemp oil.