Shepard's Pie is the ultimate comfort food for many – its hearty and filling, usually packed with wholesome ingredients and flavors. Our take on a Shepard's Pie rounds out the healthy aspect, using cauliflower as a main ingredient, along with kale, peas, lentils and hemp hearts. Read on for our Lentil & Hemp Heart "Shepard's Pie" with Cauliflower Mash.
In this recipe, we combine flavor and texture for the ultimate delicious heart-healthy take on a classic. With a variety of veggies – like zucchini, carrot and celery – this mash is incredibly high in fiber and plant-based protein. Hemp hearts and Italian bread crumbs top of this dish for a delicious crunch on top of the fluffy heart-healthy cauliflower mash. Hemp hearts are known for their health properties, aiding in heart-health, lowering blood pressure and helping regulate cholesterol levels. If you are looking for an easy to follow recipe that is sure to impress any attendee of your next dinner party, this is the "Shepard's Pie" for you to try.
For tips and tricks to cooking with hemp and CBD, click here for a beginner's guide.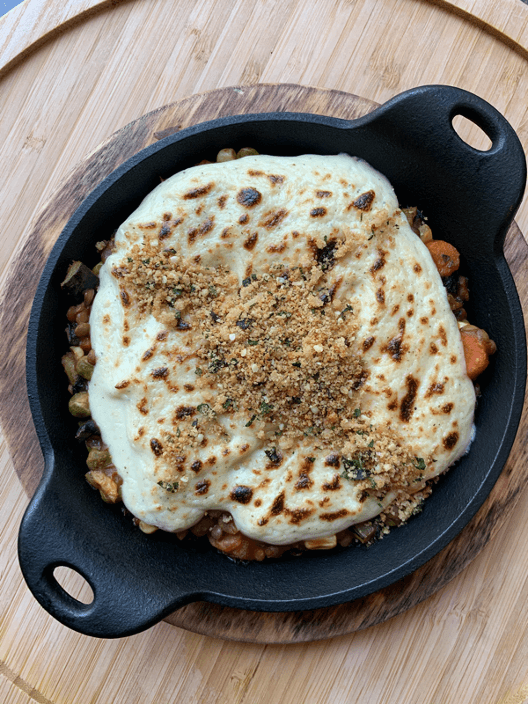 Ready in 50 minutes
Makes 8 servings
Ingredients
MASH
2 lbs of cauliflower florets
½ pint of heavy cream
4 tablespoons of cold butter, diced
1 teaspoon of salt
¼ teaspoon each of nutmeg and white pepper
FILLING
1 small zucchini, diced
1 carrot, diced
1 shallot, diced
1 ear of white corn, shucked
1 rib of celery, diced
2 cloves of garlic, minced
4 leaves of kale, stems removed, chopped
¼ teaspoon each of dried rosemary, dried thyme and black pepper
2 tablespoons of tomato paste
1 tablespoon of soy sauce
1 tablespoon of worcestershire sauce
2 tablespoons of all-purpose flour
2 cups of vegetable broth
3 tablespoons hemp hearts
8 ounces of frozen green peas, thawed
1-½ cup cooked green lentils
1 teaspoon of salt
CRUMB TOPPING
3 tablespoons of italian bread crumbs
3 tablespoons of hemp hearts
3 tablespoons of fresh parsley, chopped
Preparation
Mash: Place the cauliflower, cream, nutmeg, white pepper and salt in a large pot, bring it almost to a boil and then bring it down to a simmer for 12-15 minutes or until they are soft and tender. Transfer the cauliflower into a bowl to cool for 5 minutes. In a food processor, puree the cauliflower mixture and add the butter a few cubes at a time until the mash is creamy. Set aside the mash on the countertop while you work on the filling.
Filling: In a large pan, saute the zucchini, carrots, shallots, garlic, corn, celery and kale for 5 minutes. Add the rosemary, thyme, black pepper, tomato paste, soy sauce, worcestershire and flour and cook on medium low for another minute. Slowly pour in the vegetable broth while whisking to prevent lumps from forming. Add the lentils, hemp hearts and peas, bring to a boil, turn the heat down to low and simmer the lentil filling for 15 minutes. Season with salt. Transfer the mixture into 8 individual skillets or one large skillet.
Preheat the oven to 350F then turn the setting to low broil.
Topping and assembly: Transfer the mixture into 8 individual skillets or one large skillet. Mix the breadcrumbs, parsley & hemp hearts in a small bowl to make the crumb topping. Top the lentils with the cauliflower mash and crumb topping and place them in the oven under a low broil for 3 minutes or until the mash is a little blistered and the crumbs are toasted.
Take the "shepherd's" pie out of the oven and serve!
Tips
Make sure to remove all of the cauliflower leaves and stem to ensure a creamy and velvety mash!
If you do not have a broil setting in your oven, turn up the heat to 500F, and bake the pie for 6-8 minutes before serving.
The vegetables in this versatile recipe can be substituted for anything else of your liking. Try adding mushrooms, chickpeas and/or bell peppers next time you make this if you'd like.
For a vegan version, replace the butter and cream for any plant-based alternative.