A frittata has everything you love about a quiche without the frustration and hassle of a crust. This simple yet delicious recipe is packed with wholesome ingredients and can be prepared and ready on the table in as little as 25 minutes. There is something quite comforting about devouring a plate of steaming veggie and sausage packed eggs, combined to perfection. Read on for our take on this sausage and truffle mushroom frittata with hemp hearts.
Now you may be confused on what a frittata actually is. Frittatas' are similar to an omelet but not exactly the same, with the ingredients being mixed in with the eggs in the pan rather than folded in the center. Frittatas'' are also often mistaken for quiches, but they don't have a crust and are first cooked on the stovetop then often finished in the oven under the broiler.
This frittata just may become your go-to dinner recipe on nights you want something simple yet delicious, easy to prepare and easy to store for later. This recipe combines fresh mushrooms with kale, spinach and sausage for a hearty and healthy meal. Topped with hemp hearts, this recipe takes "heart healthy" to the next level with the cholesterol-friendly, vitamin rich ingredients. If you are looking for additional ways to up the health aspect, consider adding CBD to this recipe! Simply add a dropper full of your favorite CBD oil to the egg mixture before pouring it in the skillet, or top with a drizzle and your delicious hemp hearts!
For tips and tricks on cooking with CBD, click here.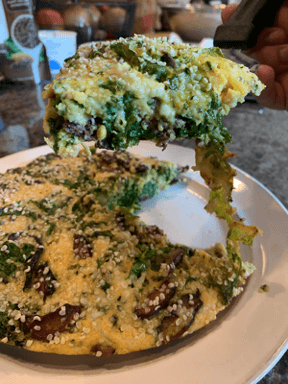 Ready in 25 minutes
Makes 4 servings
Ingredients
2 teaspoons of white truffle oil
½ pint of cremini mushrooms, sliced
4 ounces of beef/bison ground sausage
1 cup of baby spinach
1 cup of kale, stems removed
5 large organic eggs, beaten
1 tablespoon of heavy cream
⅓ cup of white cheddar
½ teaspoon each of salt and pepper
3 tablespoons of hemp hearts
1 tablespoon of unsalted butter
Preparation
Preheat an oven to 350F
In a nonstick skillet, cook the mushrooms and sausage in the truffle oil for 5 minutes on medium heat, until the meat is cooked and a little caramelized. Add the spinach and kale and cook for another minute or until the greens are wilted. Fold inthe sausage mixture into a bowl with the beaten eggs, heavy cream, white cheddar, salt, pepper and hemp hearts. Clean the skillet.
Melt the butter in the skillet, pour in the egg mixture and bake the frittata for 8-10 minutes or the egg is fully set.
Top with extra hemp hearts and enjoy!
Tips
Use any sausage you'd like in this recipe like Italian chicken sausage or a fennel and pork sausage. Even vegan sausage!
If you do not have a nonstick skillet, a large nonstick oven safe pan will work as well.
Looking for another delicious and simple recipe, great for breakfast, lunch or dinner? Click here for our Turkey Sausage and Cauliflower Hash.